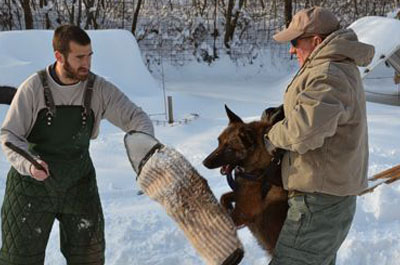 Environmentally Strong
Our K9 selection process is based on each canine breeds' natural characteristics and successful history as detection and/or working dogs. AMK9 selects dogs with the highest level of environmental tolerance along with a high level of hunt and play characteristics. Dogs with these types of characteristics are a pleasure to train because they are undistracted in a robust environment with exceptional endurance, enthusiasm, and motivation for performance activities. AMK9 bases the breed(s) selection on what breed is best for the job. 
For these reasons, AMK9 generally chooses German Shepherds, Dutch Shepherds, Belgian Malinois, and Labrador Retrievers.
Quality and Performance
AMK9 selects only the highest quality canines with proven working dog bloodlines from our exclusive European sources. Each dog is handpicked following strict guidelines and according to its ability to meet our quality and performance standards. We use senior trainers and subject matter experts to perform hands-on assessments and testing of each dog, looking especially for:
High-drive 

Overall Health

Genetics/Breeding

Workability and Endurance
Personality
AMK9 also screens working dogs for "personality", or superior working dog traits like:
A stable and approachable disposition;

The ability to behave appropriately around people, at all times;

Eagerness to exhibit obedience to verbal or signaled commands;

Above average hunting and retrieval instincts;

Exceptional intelligence and acuity;

Prolonged enthusiasm for play;

Focused and fervent desire to search for an inanimate object or reward toy; and

Consistent and appropriate behavior through all circumstances, including loud noises.
Evaluation
Typically, less than ten percent of the canines screened will pass the initial evaluation and be approved for training at one of AMK9's facilities. Once the dogs are at AMK9, our team of K9 trainers carefully evaluate each young dog, assessing it for stamina, drive and level of aggression. This step is especially important. For example, while one dog may be better suited for canine detection, another would make a quality personal-protection dog.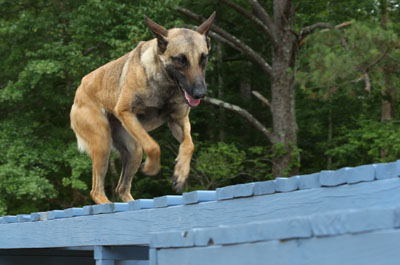 Certification
AMK9 uses the highest standards within the industry to evaluate our canines and ensure we are meeting contractual requirements and customer expectations.  Our standards meet and/or exceed the most commonly used standards within the industry.