[custom_headline style="margin-top: 0; color: #fff;" level="h4″ looks_like="h3″]Government[/custom_headline]
Home & Abroad
AMK9's Government Services Division supplies Contract Working Dog Teams to lead the way in the protection of federal facilities, personnel, and assets.  AMK9 is the industry-leading provider of canine security teams and canine capacity building services. We offer turn-key program management solutions to supplement government agencies and multinational corporations in high risk and complex environments across the globe.
Many United States and foreign government agencies are now utilizing the advanced capabilities of AMK9's Explosives, Drug and Narcotics, and Human Remains Detection Dog Teams as a proactive and comprehensive security strategy.  AMK9 Contract Working Dog Teams are comprised of skillfully trained K9s and K9 Handlers specializing in detection and arrive fully experienced in the risk mitigation of high-threat environments.

Our K-9 Teams are commonly used in searches of vehicles, cargo, deliveries, buildings, open area, and other suspicious settings, to prevent and detect unlawful activity. Providing a strong, visible K-9 presence has proven highly effective in deterring criminal and terrorist threats, but when issues do arise, the use of AMK9 Contract Working Dog Teams is proven to be an accurate and effective detection resource.
AMK9 has more than 170 Contract Working Dog Teams in Iraq that are working at the US Embassy, US Consulate in Basra, and commercial contractor facilities in Baghdad, Basrah, and the Southern Iraq oil field concessions. Our Iraq Country Management Team, located at Iraq Energy City (IEC), provides continual on the ground management of canine services.
Contact AMK9 Government Services to find out how you can hire a K9 Detection Team.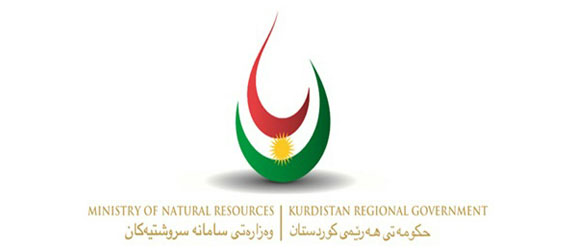 AMK9 is formally registered with the Ministry of Natural Resources, Kurdistan Regional Government-Iraq.
AMK9's registration number is: 001706.
AMK9 is establishing an Erbil-based Program Management Office to oversee operations and provide quality Expat led oversight of services throughout the Kurdistan Region. The Kurdistan office will be fully supported from our home office and Country Management Team.
Serving Our Military
AMK9 Contract Working Dog Teams have also been keeping our troops safe in Afghanistan and Iraq since 2004. We are proud to have proven, mission-oriented experience, providing direct counter to Improvised Explosive Devices (IED) and support for multiple Special Forces including U.S., Canadian, British, Dutch, German and Czech Republic units.
Additionally, AMK9 Contract Working Dog Teams have served as an explosives detection security reinforcement for troops across the North Atlantic Treaty Organization (NATO) and the International Security Assistance Forces (ISAF).This unparalleled experience has been critical in allowing AMK9 K9 Detection Teams to expertly navigate the high-threat environment of the Middle East, routinely providing entry control point security, vehicle sweeps, internal searches, and perimeter and roving patrols.
AMK9 Contract Working Dog Teams' proven performance has helped improve combat effectiveness and overall reduce Improvised Explosive Device related casualties by over forty percent (at times when our K9 teams have been present). Our AMK9 working dog team searches have led to countless discoveries of explosives, weapons caches, and narcotics, subsequently resulting in the arrest of criminals and terrorists throughout the Middle East.
Results like these define and reinforce AMK9's commitment to provide the highest quality canine detection services and uphold the highest safety standards in the industry.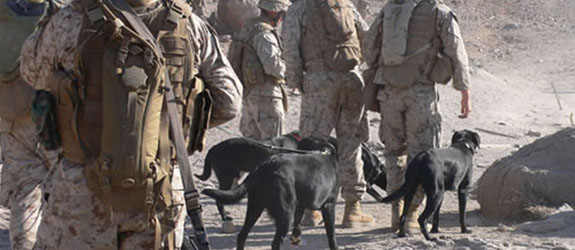 Caring for Our K9 Veterans
AMK9 ensures the life-long welfare of each of our retiring K9 veterans, even after their overseas working careers have come to a close. AMK9 transports the retired contact working dogs home to the United States, where each dog is evaluated by our veterinarians. Some of these K9s will still have the drive and desire to keep working, and AMK9 will help assign the K9 veteran new domestic responsibilities suited to the skill set of each canine.
Of course, after a long working career overseas, many of our dogs are ready to settle into a well-deserved retirement with a loving family. AMK9 Government Services partners with local K9 adoption programs that specialize in finding just the right home to suit each individual K9's needs. Find out more about our adoption program, or watch our video to see how AMK9 brought 92 contract working dogs home from overseas.
---
Call AMK9 Government Services to find out how you can hire a K9 Detection Team!
[button type="transparent" class= "white-btn" style="border-color: white; color:white" shape="square" size="regular" href="tel: +17065016400″ title="Example"][icon type="phone"]Click to Call[/button]