[custom_headline style="margin-top: 0; color: #fff;" level="h4″ looks_like="h3″]Quality Dogs Available[/custom_headline]
Environmentally Strong
Our K9 selection process is based on each canine breeds' natural characteristics and successful history as detection and/or working dogs. AMK9 selects dogs with the highest level of environmental tolerance along with a high level of hunt and play characteristics. Dogs with these types of characteristics are a pleasure to train because they are undistracted in a robust environment with exceptional endurance, enthusiasm, and motivation for performance activities. AMK9 bases the breed(s) selection on what breed is best for the job. 

Quality and Performance
AMK9 selects only the highest quality canines with proven working dog bloodlines from our exclusive European sources. Each dog is handpicked following strict guidelines and according to its ability to meet our quality and performance standards. We use senior trainers and subject matter experts to perform hands-on assessments and testing of each dog, looking especially for:
High-drive 

Overall Health

Genetics/Breeding

Workability and Endurance
---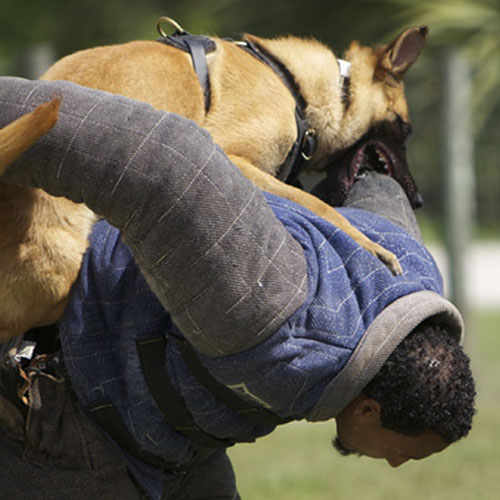 Personality
AMK9 also screens working dogs for "personality", or superior working dog traits like:
A stable and approachable disposition;

The ability to behave appropriately around people, at all times;

Eagerness to exhibit obedience to verbal or signaled commands;

Above average hunting and retrieval instincts;

Exceptional intelligence and acuity;

Prolonged enthusiasm for play;

Focused and fervent desire to search for an inanimate object or reward toy; and

Consistent and appropriate behavior through all circumstances, including loud noises.
Evaluation
Typically, less than ten percent of the canines screened will pass the initial evaluation and be approved for training at one of AMK9's facilities. Once the dogs are at AMK9, our team of K9 trainers carefully evaluate each young dog, assessing it for stamina, drive and level of aggression. This step is especially important. For example, while one dog may be better suited for canine detection, another would make a quality personal-protection dog.
Certification
AMK9 uses the highest standards within the industry to evaluate our canines and ensure we are meeting contractual requirements and customer expectations.  Our standards meet and/or exceed the most commonly used standards within the industry.
Our Breeds
Dogs with a 'play and prey' drive are ideal for training because they have exceptional endurance, enthusiasm, and motivation for performance activities such agility drills, fly ball, and obedience training. For these reasons, AMK9 generally works with the following breeds:
German Shepherd
The world's leading police, guard and military working dog
Known for its direct, fearless disposition, the spirited German Shepherd Dog is a top pick in law enforcement agencies. But the Shepherd is an 'all rounder'—its temperament coupled with a strong, muscular body makes it a distinct favorite as a military working dog and general security dog too.
The German Shepherd is: alert, cheerful, confident, courageous, intelligent, keen, obedient, serious, tranquil, extremely faithful and eager to learn. They will not think twice about giving their lives for their human pack.
---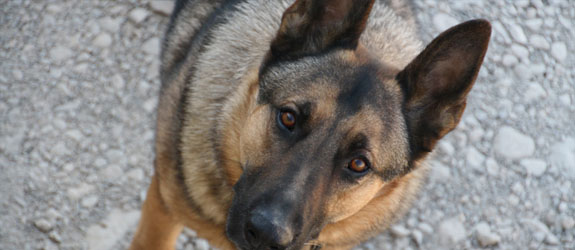 Belgian Malinois
Sought after as both a police dog and military working dog
One of the four types of Belgian sheepherding dogs, the Belgian Malinois is a high-energy breed, well-known to both law enforcement and the military, and a prized K9 partner.
Although sometimes mistaken for the German Shepherd Dog, the Malinois is more elegant in build and lighter-boned, but does not lack for strength, agility or herding ability. A very bright and obedient dog, it is determined and observant with strong protective and territorial instincts. The Belgian Malinois retains a strong work ethic and is happiest with regular activity and consistent, focused routine.
The Belgian Malinois is: alert, agile, intelligent, obedient, strong, territorial, highly trainable and naturally protective. They are not overly aggressive, making the breed excellent for security purposes.
---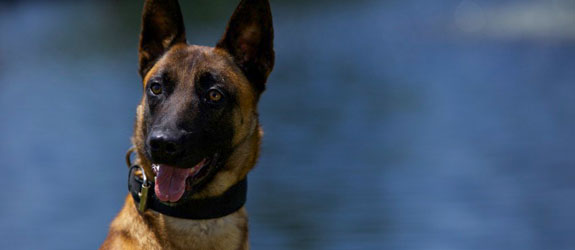 Dutch Shepherd
A very competent canine that excels as a guard dog
The Dutch Shepherds are among the most competent of all shepherd dogs at such tasks as agility, catch, obedience competitions, guard work, herding, field trailing and leadership. Attached to its territory and an enthusiastic worker, this dog is cunningly smart. They are very authoritative and seen as natural pack leaders.
The Dutch Shepherd is: agile, enthusiastic, intelligent, obedient, sober and very loyal to its handler. Unwanted visitors will be stopped in their tracks when approached by this breed.
---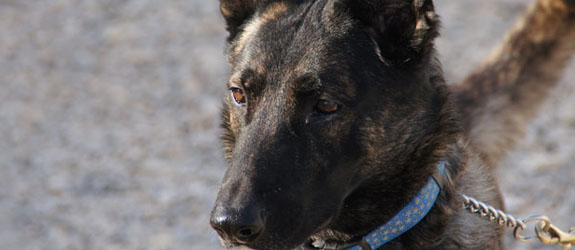 Labrador Retriever
An outstanding drug detection dog and a 5-star service dog
The Labrador Retriever is loving and patient, making it a great family dog. Being highly intelligent and gentle in nature the Labrador Retriever is a popular and logical choice for service dog work. This versatile hunting breed comes in three colors: yellow, black and chocolate. Because of the dog's aptitude to please its handler the Labrador Retriever excels as part of a search-and-rescue team, or in drug detection with law enforcement.
The Labrador Retriever is: affectionate, good natured, intelligent, loyal, patient, willing and eager to please. This is one of the most popular breeds in the world.
---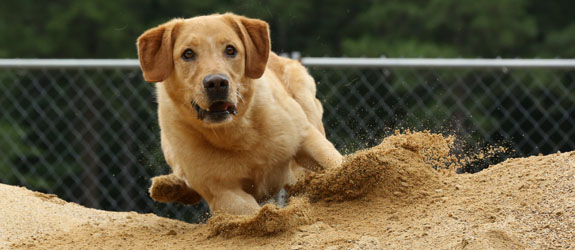 Springer Spaniel
A born hunter with a nose for contraband
The Springer Spaniel has been endowed with style, enthusiasm, and an eager-to-please quality common to most spaniels. He is recognized for his ability to keep going and going under adverse hunting conditions, which is partly due to his medium-sized, powerful body. He has long, hanging ears and a moderately long coat that can be black or liver with white, blue or liver roan, and tricolor.
The Springer Spaniel is: brave, energetic, even-tempered, friendly, gentle, intelligent, obedient, playful, pleasant, skillful, sociable, willing and a quick learner. Their tails are seemingly always in motion as they earnestly get on with the job at hand!
---